Silver Whiskers: Our Wisest Cats
Silver Whiskers is BAA's special adoption campaign for older kitties. If you're in the market for a mellow feline, these are the sweetest, calmest cats around!
BAA believes older kitties are the best! Here's why:
Older cats have settled into sweet, mushy personalities – what you see is what you get!
Many adopters describe older cats as offering a deeply grateful kind of love — these kitties have seen enough in their lives to recognize a good home when they finally find it!
Older cats are litterbox trained and require less energetic interaction than kittens and teenage cats, making them great for senior adopters. Be sure to visit our page on the benefits of pets for seniors!
Remember, cats often live very long lives – some of our adopters have reported their cats living up to 22 years of age. Adopting an older cat does not mean that you won't have many years of love and friendship!
Read more about the benefits of adopting a senior kitty here and please contact BrooklynAnimalAction@gmail.com to find out which Silver Whisker kitties would be a great match for you!
---
Meet Tigress!
Tigress is a super sweet girl with a big personality. She likes to loll around and relax but she also enjoys a little play time when the mood strikes her. She is a full figured gall who enjoys showing off her attractive figure by plopping herself right in front of you when you are trying to read or work. She is probably best with other mature adults since while very sweet, is not super fond of little ones chasing her around. She can be an only cat or hang with another cat who isn't too pushy or annoying.
If you would like to meet Tigress, please contact Sheri at baaadoptions@gmail.com
---
Blake and Border – Two loving senior brothers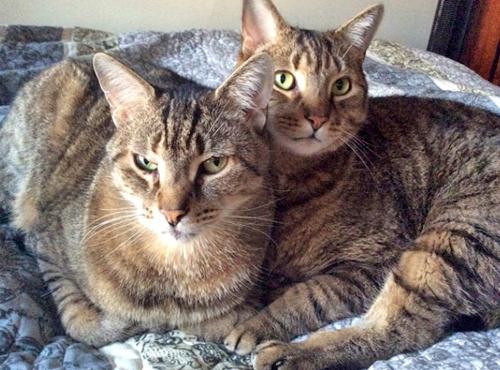 These two beautiful, bonded brothers are Blake and Border. Unfortunately for these two incredible cats, their current owner developed severe allergies, which then developed into asthma, and Blake and Border are now in need of a new forever home they can go to together. Being separated just isn't an option. They love each other too much! Can you help them and their current owner—who is desperate to find them the perfect fit—out?
The boys are 12 years old, easy-going, and ridiculously cute and friendly. They've just been given full vetting, blood work, and are up to date on their vaccines. They need someone who is in the mood for an older pair with so much love and life left.
You can find out more about them here. If you would like to meet Blake and Border, and potentially become their knight in shining armor, contact Tara Green at catsbyny@gmail.com!
---
Mitchy, the best Gentleman Tabby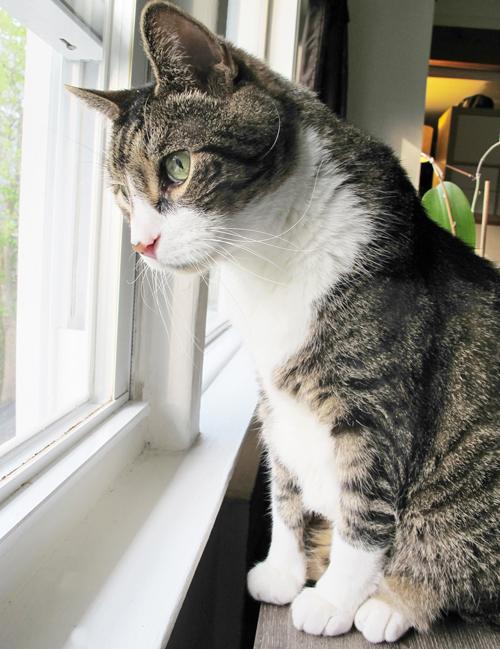 Meet Mitchy, who lived with his owner in Queens for the past 9 years. Unfortunately, tragedy struck, and Mitchy's owner passed away, leaving Mitchy without a home. His owner's family didn't give up on Mitchy, though. They drove every day from Long Island and tried for months to find Mitchy a new home—to no avail. Then, they reached out to Brooklyn Animal Action rescuer Tara, who set them up with a fantastic foster for Mitchy in New Rochelle.
Mitchy's foster mom has nothing but praise for Mitchy, telling BAA that "he loves following us all around and he comes when we call his name! He also has good manners—he is not interested in scratching our furniture or eating human food on the table! I think he is just an A++++++++ cat! He deserves the best!" Not only does Mitchy head butt constantly and love attention from humans, he also gets along fine with the little dog at his foster home.
Mitchy is 11 years old, up to date on vaccines, and just had a vet visit with blood work—he's completely, fantastically healthy. Find out more about Mitchy here! If you'd like to meet this older gentleman with perfect manners contact Tara Green at catsbkny@gmail.com!
---
Big Boy Buddy

TNR'd years ago, big Buddy — despite his hardcore size — just wasn't cut out for a life on the streets. And the moment you meet him, you'll understand why: he might look like some kind of a tough guy, but he's nothing more than a total mush. It turns out he's never met a corner of a bed he doesn't want to snuggle on and he prefers to watch the street-life from a window perch, one of his favorite places to take it easy.
Big Buddy is loving, affectionate, and not above pushing his head against your hand, demanding to be pet like a little kitten. But who's got time to ignore the finer things in life, like a nice scratch between the ears from a warm hand, or a warm spot at the foot of your bed? He's a big guy and an even bigger snuggler. Appearances can be deceiving, so you can never judge a book or a cat by their cover. If you did, you'd miss out on a faithful, rumbling purr-monster like big Buddy!
Want more proof? Here's a video of big Buddy accepting tribute in the form of adoration and head rubs
Big Buddy is approximately 6 years old, neutered, up to date on vaccines, felv negative, and FIV positive—which isn't contagious and only means he has to stay an indoor cat for life, eating quality food and visiting the vet for yearly exams, which all cats should! All you have to do to hang out with this big boy is contact Tara at catsbkny@gmail.com. You can also read more about him here!
---
Egg-sellent Cadbury

Rescued on Easter Sunday, Cadbury is a big, friendly guy who turned up when his rescuer least expected him. After living on the streets of Flatlands, Cadbury was a total mess, with battle wounds on his front legs and shoulder, his fur filthy, and his tummy empty. But despite his hard-knock life, Cadbury's affectionate nature shone through. As it turns out, this boy is as sweet as a chocolate Easter egg!
From his tough-guy appearance and scars, it seems likely that Cadbury has been roughing it out on the streets for way too long. But don't let his looks fool you. Cadbury's disposition couldn't be better suited for lovey-dovey lap-cat status. He adores getting pets and purrs up a storm the moment he feels your touch. His favorite activity other than cuddling with a human is to sit on the windowsill and watch the activity going on outside—now that he's no longer a part of the dangerous outdoors lifestyle.
Cadbury is approximately 6 years old, neutered, and up-to-date on vaccines. He tested negative for leukemia but positive for FIV—which only means he must stay indoors for good, eat high quality wet food, and see a vet annually, as all cats should! He's fine around other cats and fine on his own, soaking up all the human attention he can get. Now, he needs a foster or an adopter to give him the cozy home he deserves. If you'd like to meet this good egg, contact Tara at catsbkny@gmail.com to schedule a playdate! You can also read more about him here!
---
Gorgeous Grandma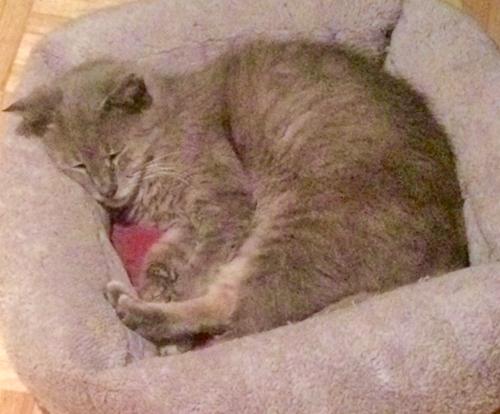 Earlier this year, in the dead of freezing cold winter, sweet Grandma was rescued from Bay Ridge. Since she was a senior cat forced to get by in bitter, snowy weather, Grandma was in rough shape—but we got her all the help she needed to recover. Now that she's back on her paws, she's looking for a home of her own. Don't you think she deserves one?
Grandma is a gentle senior citizen who will take a little time to adjust to new surroundings, but once she has, she'll prove that she's got good, old-fashioned manners—making her a perfectly polite houseguest. Of course she enjoys sleeping, eating, being beautiful, and providing calm, kind company for her human pals, too.
Grandma is most likely 12 years or older, spayed, current on vaccines, and completely healthy—she tested negative for felv/FIV. Because Grandma's such a special case, we're looking for a long-term foster home for her to live out her remaining years in the comfort and coziness she deserves, bringing fluffy joy to whatever kind soul takes her in. If you can give Grandma a place to call her own, please contact Tara Green at catsbkny@gmail.com! You can also find out more about her here!
---
DAAAAAAANGER Mouse!

Danger Mouse is a gorgeous kitty, very loving and sweet, adores snuggles, petting and Love! She is has had a tough time recently, and she really needs a loving foster or permanent home! She had a good life with her person and her cat buddy – until her buddy died and her person decided to give her away. Always shocked when people do this but we see it all the time. It isn't Danger Mouses fault. She deserves way better. She would be very happy napping and enjoying treats but sadly, she's in a cage at the vet's, bewildered and wondering where she'll end up next. It's just not fair – she's super sweet, loves attention and petting and snuggles, and she really deserves to be spoiled rotten.
She seems to prefer being the Queen of the castle and would be happy as an only kitty. Danger Mouse is fully vetted and in good health, other than some minor ailments. Won't you consider welcoming her into your home so you both can cuddle?
If you would like to meet this pretty lady, please contact Belinda, at belinda@cooperdooper.org. You can also find out more about her here!
---
Archie, the Dog Cat!
Archie is a 9 year old, absolute MUSH POT! He was adopted at 10 months from a shelter, by a family that loved him dearly, but sadly, he is being surrendered because his human companions suffered the tragic loss of a child and can no longer give this sweet boy the affection and attention he needs. He will thrive in a busy home with cat lovers and no other cats or dogs. Archie had a comprehensive wellness exam at the vet in November 2015 and is completely healthy, up to date on his vaccines, and negative for FIV/FeLV. He is neutered and microchipped. He has been an indoor cat for his whole time with our family.
Archie is basically a puppy. I guess he counts as an older kitty, but you would never know it. He will follow you from room to room, and wants several minutes of petting before settling down just a few feet away. If he's extra happy, he'll lick you for a while. He has been known to chase bugs for hours and will never tire of chasing around a toy or a piece of string. He will make a great companion to someone who likes the interaction that a dog would bring, without the walking!
If you would like to meet this pretty lady, please contact Belinda, at belinda@cooperdooper.org. You can also find out more about her here!
---
Kitty, The Queen!
Kitty is a lovely 11-year old tabby with a classic cat personality. She pretty much thinks she's the queen of the house, but occasionally requests some attention from her loyal subjects. She will gravitate to the room you're in and settle a few feet away. Her favorite thing is to have her neck scratched while she's eating her food. She will meow and herd you over to the food bowl until you get the message. She's technically an older cat but she doesn't act like it. She has been known to race down the hallway after nothing. She will make a great companion to someone who can give her attention, but is happy with a fairly mellow cat.
After a tragic loss, Kitty's family can no longer provide the attention she needs. She would do well in a home with no other pets.
Kitty had a recent comprehensive wellness exam at the vet and is completely healthy, up to date on her vaccines, and negative for FIV/FeLV. She is spayed and microchipped. She has been exclusively an indoor cat for the last eight years, but used to love chasing squirrels outside.
To schedule a play date with Kitty, please contact Belinda, at belinda@cooperdooper.org You can also find out more about her here!
---